Thank you for visiting our site! We are a wholesale jewelry manufacturer, selling to the trade only.

To view our current line click the following link:

(Please bear in mind we have just switched picture pages and things are still terrifically disorganized. We will remedy that situation after the June '17 Markets.

In the meantime, we ask for your patience, as we are not the most tech-savvy folks around and will endeavor to answer any questions you may have.

You can email us at the following: hunter@andreabarnett.com.
​
Also, when viewing the pictures on the new page, roll your cursor over the arrow at the bottom of the photo to see the style number and description of the piece...yes, we are not enthused by this feature either and are working to change it, but for the moment that's apparently how it works.

P.S.--There will be a button in the top right corner that says "Buy Photos". DO NOT click this. We are not selling photographs of our pieces...not that anyone has ever expressed an interest in purchasing one, but just in case...no, don't do that, it will make you sad. We are not selling direct from the site at this point so please send any orders to the above email address.

​Thanks again and we look forward to hearing from you! At long last, here is the link:)

www.andreabarnett.smugmug.com

A Resale Tax Certificate is required for wholesale orders.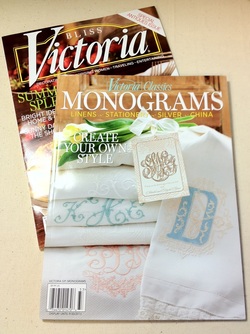 In light of the recent article in Victoria Magazine's Classic Monograms issue,
we are offering a few designs for sale directly to the public. These items are
not in our current line but are available by special order.



To view these monogram items please click below:
---