Hand-Engraved Monograms:
Our engraver, John Franciscus, is one of a precious few hand-engravers left in the world. This rapidly dying art has been replaced over the last few years by machine engraving, which while much faster and less expensive, sorely lacks the artistry, skill and sheer beauty of the Victorian-style interlocking script, which can only be achieved by the hands of a true master crafstman. John's
engraving is also available at L.J. Lewis Co. in Atlanta, Ga.
As you might notice, the prices for the engraving differ on each piece. This is due to the fact that some pieces are more difficult to engrave and thus more time consuming. However, we can assure you...they're worth it!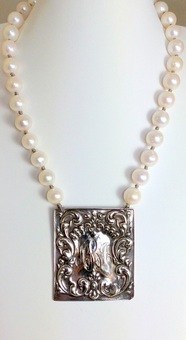 This is a sterling silver replica of a Victorian dance card. The original was
actually a silver book with little linen pages on which to write the name of each
dance partner. After the party, the pages had to be washed and ironed
in preparation for the next event. Clearly that was an era when young
ladies had the free time to be laundering their accessories. For the record:
washing this item will merely ruin both it and your washing machine.

The sterling dance card measures 1 3/4" X 2". The knotted
freshwater pearls make the necklace a total of 17" long with a 2" chain
extender.
The price of the necklace is $559.00
The hand-engraved monogram is an additional $99.00

---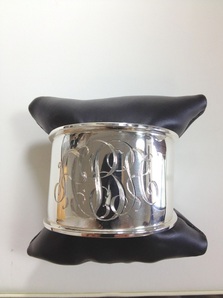 This sterling cuff bracelet is handmade with a square wire border. It's classic styling makes this cuff
a timeless addition to any wardrobe. The exquisite interlocking monogram gives this piece true
vintage appeal, while maintaining its sleek lines, making it perfect for both business and pleasure.

The cuff bracelet measures 1 1/2" wide, tapering in the back and curves to fit the wrist snugly.
The price for the cuff bracelet is $350.00
Hand-engraving is an additional $125.00
Please allow 6 weeks for delivery.
---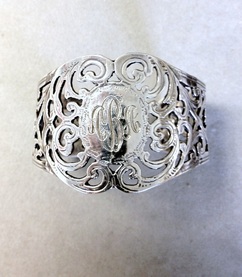 This beautiful cuff bracelet was a napkin ring in its previous life. From the original, we added a few inches to the back, making it large enough to fit the wrist. The graceful open scroll work is indicative of the Victorian Era, making this cuff a modern-day heirloom, to be treasured by generations.

The widest part of the bracelet is 1 5/8", tapering to 1" as it surrounds the wrist.
The price of this item is $570.00
The hand-engraving is an additional $50.00
Please allow at least 6 weeks for delivery.
---
To order please call Andrea Barnett, Ltd. at 800-584-0913 or you may contact us via
email
.